Not everything started with social media.
When it comes to 'style' we can use this term in many areas like literature, communication, photos, living, and the most common (and related to this noun) fashion. If we go to the grammatical definition of style it's described as an elegant, fashionable, or luxurious mode of living; Also style it can also be a mode of fashion, as in dress, especially good or approved fashion, also elegance and smartness. So, as a result, style can be linked to anything, we can even find it in nature or anything that surrounds us. But in this article, I'm going to talk to you about the style in fashion (kind of a basic approach to the term) and its evolution through the years, also how fashion style has been embraced by the nowadays generation.
As I described above, style in fashion is a tool to express yourself through what you wear, your unique form of clothing or arranging your appearance. So that said, we can move on to history (express mode) of how fashion style has evolved and how it has been a tool to express ideas, social statements, and be creative.
Since the beginning of humankind, we've seen different styles, like their leather boots or moccasins, coats, bottoms, and all those historic patterns and colors printed in their wearing. Due to the amount of time they used this clothing and how they were identified with that, that's how it was established as their style.
Although you might think that isn't quite true or that it doesn't make sense, well, unfortunately, it is true. Humankind has always survived and lived with style standards and fashion trends and it all began officially in the 1700s, some of the most extravagant outfits that we've seen (and wigs) either for men and women. During this century, the extravaganza was the core of any design from clothes to décor, and it goes by the hand with the painting trends also (which is another topic, however, related).
By the end of the 1700s we can witness how clothes design (shape and size) changed, going from the big and hoop skirts, therefore, they kept the use of corset but simplified the size and width of the skirts, however keeping the small details in the fabric. Despite that, by the last decade of the century, women started to dress more lose dresses, defining more the waistline/bust area of the women and allowing them to move freely.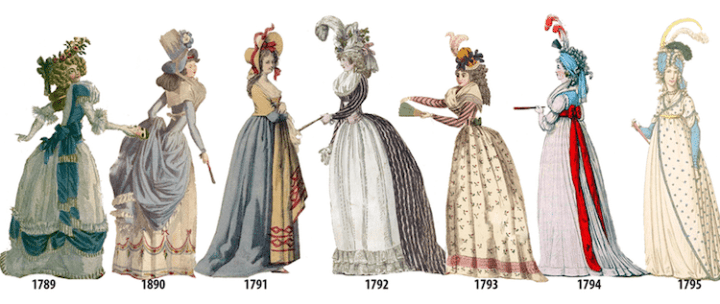 My Modern Met
By the 1800s women kept that wearing shape, known these days as empire line dress, and during this century it was polished and shaped, allowing women to diversify from the basic design to more elaborated dresses. Regardless of the relaxation that women felt with that design, by the mid-1800s dresses began to enhance even more the female body, returning to the corset combined with the loose skirt and now adding ribbons and puffy shoulders.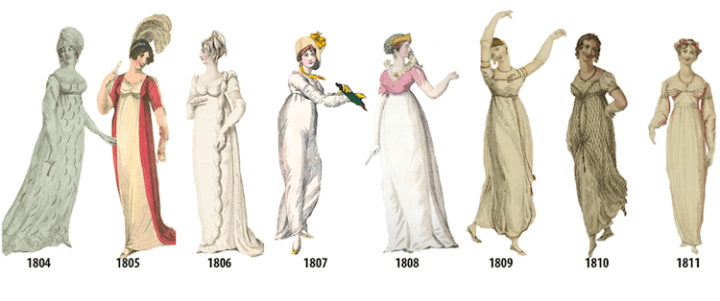 Boing Boing
Besides, women started to incorporate accessories such as hats, umbrellas, gloves, and fans. However, during the last decades of the century, women's style took an interesting turn, leaving behind the wide and long skirts and instead of coming back to the loose silhouette, the design of the dress became more polished, defined and feminine. But it didn't last long when they make dresses even sharper and practical, this time making women look powerful with an A-line skirt (keeping the corset of course).
And coming closer to our century, during the early 1900s women came back to the style that began in 1700s, that loos skirt or bottom, with the defined waistline, only this time keeping the accessories established in the 1800s like the hats and umbrellas. Meanwhile, the colors started to be more pastels and mixed with patters.
The most fascinating thing about women's style during the 20th century? The styles experienced during this century, it wasn't like the 19th or 18th century, this time, women decided to experiment with different types of skirts, tops, accessories, and dresses. Going from the most classical style (the empire line dress) to a more practical design such as the deep waist during the '20s, the shirtwaist and jacket dress during the '30s along with the bouffant dresses during the '40s and early '50s.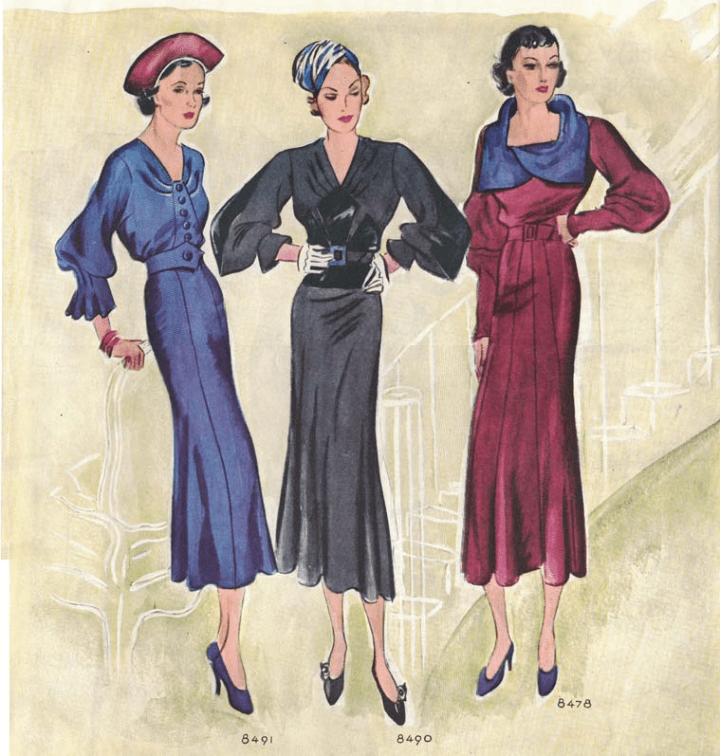 Blue Velvet Magazine
By the '60s the A-line dresses, tunics, and shirts dresses began to take the fashion trends, allowing women to have a more practical lifestyle, without having to concern about the buttons in the clothing. And it was until 1970 that some fashionable and wearable trousers were introduced to women's wardrobe, kind of the hippy style with wide-legged trousers and hot pants (kind of tight).
During the '80s the style and clothes were all about being sporty, focusing on comfort and functional clothing. That's why during this decade the sports brands became super famous such as Nike, Reebok, and Adidas. Furthermore, leggings, tracksuits, sports bra, training shoes became extremely popular. However, by the '90s it all turned around being glamourous (kind of the opposite) and owning a minimalistic style, of course, the glamorous trend became stronger and gain more popularity because of globalization.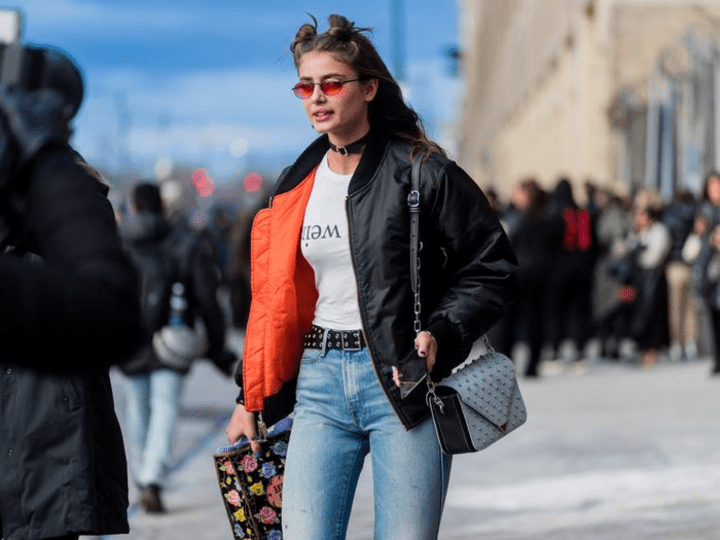 What's the nowadays fashion style? As we can see we carry on with history, we can't wear or create clothes without a background, and these days women have the freedom to choose which fashion trend they can own, going from the activewear to haute couture. Despite that, you must own your style, which can be classic, romantic, natural, sporty or even boho. All these styles with such a great history and background that allow you to identify yourself with either one or two, all depends on your lifestyle and needs.
So, what do you think? Do you think we'll come back to some other trends from other centuries? Are we living in the new mix of the '80s and '90s? I think we are living in the new '80s, as we can observe on the streets a lot of people wear sportswear or glamorous clothes, two extreme styles that come from a lifetime of evolution and that have adapted to our globalized (and technological) lifestyle.